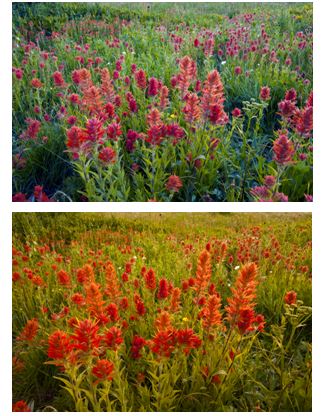 Why You Need A Custom White Balance
Custom WB, Albion Basin, UT – U.S.A.
---
Albion Basin is above Alta Ski Resort at the top of Little Cottonwood Canyon in Utah and is a great place for wildflowers. The wildflower meadows are easily accessible and present a good variety of species with great mountain vistas as background.  As it is deep in the canyon, there is less of an option for the warm light at either sunrise or sunset but pretty close at sunset, as the canyon faces west.
One time when I was exploring and photographing the wildflowers I could see the sun would soon disappear behind the mountains.  As this happened and since the sun was now mostly behind the ridge, the warm afternoon light suddenly turned very blue, the main light being indirect from the blue sky, hence a very speedy custom WB was called for in order to get the proper color.  Looking at the sequence of photos made at this time, there is no way to tell when the light changed as the color is consistent throughout.
    

The Custom WB reference with the target in full frame and after custom WB.  I always take a shot incorporating some of the scenes with the WB applied so that I have a reference.  I then crop this in Photoshop and use it in case I need a neutral reference.  In this case, however, I wanted to retain the warm colors so once the custom WB was set, it was done.

You can see this photo with a Blue cast right after the sun dropped behind the mountain ridge and then after I applied the Custom White balance.
Applying custom white balance frequently, I am so used to doing it on my cameras it only takes few seconds.  Like using any tool, being familiar with how it works so that you don't have to refer to the manual for needed tasks is essential.  Even though most camera manufacturers have a similar method through various models, the process does vary depending on what model of camera you are using so I suggest you refer to the manual and submit setting a custom white balance to muscle memory.
As you noticed, I am using a gray card with light, medium and dark tones but any paper gray card will work.  Make sure that you purchase a dedicated Gray Card in a photography store to guarantee it being neutral, as any color cast in the gray will adversely affect the neutrally.