Several years ago while on assignment in French Polynesia, we needed to photograph a native girl in a natural setting highlighting shampoo and skin care products. Like bathing in a lagoon or some water area. There are no lagoons, in fact hardly any beaches, on the main island of Tahiti where we were working and we needed to find a place for our commercial shoot. As far as I know there is only one beach on the island of Tahiti, the black sand beach of "Plage de Hitimahana" on the North side, not that far from the main city Papeete. However, with the open see unobstructed, waves coming in and no palm trees close by so not the ambiance we were looking for. We had driven past Vaipahi Waterfall on the South side of the main island and thought that would be a nice setting.
We arranged to have the model photo session there and it worked out nicely, but we needed more close-ups and an intimate feel in the photos and this was difficult to achieve at this natural waterfall due to the steep surrounding slopes and dense vegetation.

Brainstorming for alternate locations I thought we could possibly fake it at the hotel pool that featured a manmade waterfall and was surrounded by palm trees, some at distance creating a perfect South Pacific-type ambiance background. We could gather some palm leaves as foreground and frame it tight enough so the actual pool feel was not apparent. Commercial shoots often are artificially created and even though we were in Tahiti, a very real and beautiful place, we ended up using a hotel pool to get the shots needed.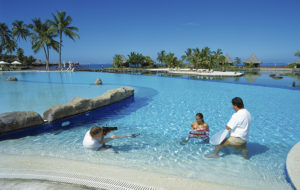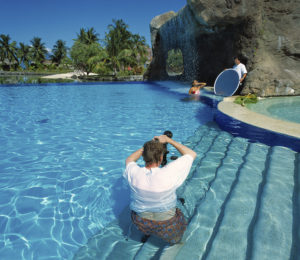 Photographing with film and a Pentax 645 medium format cameras using 200 and 400 mm lenses I was able to get low and level with the model and frame tight including just enough South Polynesian ambiance making the appearance of a believable natural setting.
You can see that the "nativeness" is modernized as in the photo from the back with her hands trough the hair; she wears fresh fingernail polish, oh well.